We are proud to announce our 58 recipients of the 2021 Team Tacala Scholarship! Tacala has committed to encouraging our teen Team Members to pursue post-secondary education to prepare for the future and help them achieve their dreams by minimizing the financial burden of college and vocational schools through the Team Tacala Scholarship!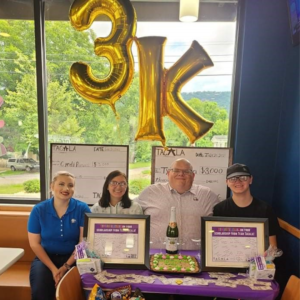 "I encourage anyone on my team, who is in school to apply for the Team Tacala Scholarship. My team works hard every day in both the restaurant and in the classroom, and they are well deserving of this award! My Restaurant Leaders and I host a party for our whole team to celebrate our scholarship winners with balloons, special treats and notes of encouragement to not only motivate our scholarship winners to continue their education, but to also encourage their teammates to apply for the Team Tacala Scholarship next year! This scholarship can make a difference in our teens' lives and allows them to continue to work towards their educational goals." – Chattanooga Area Coach, Wendy Graham

Aaron Rodriguez
Abigail Johnston
Alec Hoffman
Alexis Blanchard
Amanda Luker
Angel Carrillo
Angel Jones
Angie Hubbard
Arnoldo Dimas
Baylee Tolbert
Benjamin Bradshaw
Brea McIntyre
Charles Ball
Charm Sausberry
Connor Troha
Corey Guida
Cyndi Plemons
David McCaulley
Deaunjanai Williams
Dennis Guillen
Emily Warren
Gavin Grajeda
Jacob Ferrell
Jacob Goldberg
Jacob Mitchell
Jazmin Lozoya
Joel Rivera
Kallie Cook
Katherine Manasco
KeTavious Smith
Kimberly Chrabry
Kisha Patel
Krystalie Smith
Kyndal Canady
Lestasia Blevins
Lillie Searcy
Litton Beres
Maggie Ramirez
Maira Ejaz
Michael Couch
Miguel Ochoa
Moustafa Daher
Nevaeh Whateley
Nicholas Huddleston
Noah Dockery
Ny'Kenzie Nalls
Olivia Gomez
Patrick Loftus
Raechel Hendon
Randa Voight
Randal Kelly
Randall Timbs
Samuel Gray
Sara Rayfield
Tiauna Tazewell
Timarcus Tate
Tristin Dozier
Tyler Burton
Thank you to all of our Team Tacala Charities sponsors and donors, and the Tacala Senior Leadership Team for helping fund these life changing scholarships! They may be part-time employees with Tacala, but they are full-time members of our community and the future thinkers, doers and leaders of this country.