I'm Jency Naka, and I'm obsessed with technology! Why? Because technology has completely changed the world since the first binary programmable computer was built less than 100 years ago. The tech world is always evolving and finding new ways to bring people together and make our lives more efficient, and I can't wait to see what humanity does with it next. The philosopher, Confucius said, "Choose a job you love, and you will never have to work a day in your life." I love technology, and I've found a way to combine my passion and tech hobby with my career, all while sharing my skills and serving others. I have the BEST job, and it all started at Taco Bell! Keep reading, and I'll tell you all about my taco journey, old school Taco Bell technology, the inside scoop on new technology for our restaurants, and more!
I was fresh out of high school in July of 1994 when I started my Taco Bell journey as a Team Member with a different franchisee in Cleveland, Tennessee. In 1999 I took a break from Taco Bell for a few months to study martial arts and freelance computer work for the impending Y2K fiasco. After Y2K I decided to return to Taco Bell, by joining the Tacala Team as an Assistant Leader in Chattanooga. Joining Tacala was the best career decision I have made thus far!
Throughout my time with Taco Bell, I worked hard and rose quickly through the ranks of Team Member, Trainer, Shift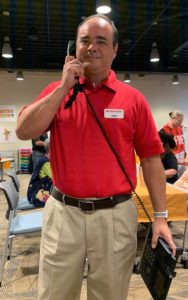 Leader, Assistant Leader, Restaurant Leader, all the way to where I am now leading Tacala's Operations Technology Support Department. I am based out of our Birmingham Restaurant Support Center, but I still assist in the field and visit restaurants as much as possible.
TACO TECH EVOLUTION:
Technology has come a long way since I joined Taco Bell in 1994! My store was new and had the elite PAR 2000 registers, which was the first Taco Bell POS system to integrate the time clock with the register and had a multi-line display, although it was a green monochrome screen that was difficult to read. The keypad where we entered customer's orders was a series of buttons in columns and rows, and menu items were on a paper overlay with a plastic cover. Believe it or not, many stores didn't have a headset system in the 90's. Instead many stores had a gooseneck microphone and a horn speaker in the drive-thru, and newer fancier stores had a speaker over the steamer. In the 90's drive-thru timers actually had the same technology under the hood as today with a magnetic loop at the speaker and at the window that relays a signal to a processing unit.
Before the dawn of e*Restaurant we used several iterations of T.A.C.O. (Total Automation of Company Operations). Unfortunately, it wasn't really "Total Automation".  All back of house computers had a dial up modem that dialed out to the Restaurant Support Center to send data and periodically would dial into a message server to download messages before the days of modern email and the ability to dial into PepsiCo Food Service (predecessor to McLane Food Service) to send our truck orders or receive invoices. Our early back of house PC printers were Dot Matrix. They were slow, loud and huge, and we had to print a lot of daily, weekly, and period reports. These reports were stored in binders and/or sent to the RSC. Every night we had to back up our databases to a 5.25" or 3.5" set of floppy disks. Luckily modern-day computers and technology have eliminated many, many printed reports, binders and floppy disks from our day to day operations!
TACALA'S TECH TEAM:
From the beginning Tacala Founders, Don Ghareeb and Dick Reese, knew that self-support was going to be crucial to our business. They hired a Senior Technician from PAR and 7 other people dedicated solely to POS to form our POS Tech lab.
Under the leadership of Co-CEO, Tim Morrison and Chief Development Officer, Michael Border we started doing maintenance and repairs in-house to better serve our stores. Where the original Tech Lab dealt with POS only, our Ops Tech Support Team now handles POS, BOH PC's, training tablets, credit card support, networking, digital menu boards, burglar alarms, drive-thru communications and timers, PCI compliance, CCTV, music, and TV's. We do all of this with just 7 techs! Dane Badresingh leads our Texas support team, along with newcomer, Andres Naranjo. Troy Cinque leads our Southeast team with Jake Berkley and Leon Hill in Tennessee, Markus Mathes in Alabama, and Michael Mitchell in Georgia. Dane, Troy, Michael, Jake, and Andres all have Taco Bell management experience, and our Team combined has over 100 years of Taco Bell experience!
WHAT'S TO COME:
New technology excites me; it's what motivates and fuels me for my job every day. A major upgrade of hardware or software can be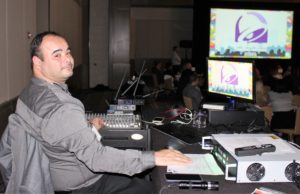 overwhelming with so many logistics and moving parts, but with the support we get from Tacala Operations, Tacala's Senior Leadership Team, and our internal techs, we meet these challenges head on and strive to be the best in our field and the kindest support team on the planet. Learning new technology can be frustrating for some of our teams, and we try to show as much patience and kindness as possible to help ease the learning curve for our restaurants.
In 2022, I hope to see more of our restaurants utilizing the Touch Kitchen screens, and there is a new POS system being tested by Taco Bell Corp. The new POS will be Android based, and we are moving the numbers crunching off of the POS. That means faster, lower cost repairs, and there will no longer be a "Manager" register that we have to worry about databases getting corrupted.
My favorite piece of technology in our restaurants is the drive-thru timers. I am very competitive, and I like that the timer keeps you on your toes. I am obsessed with timer data, because the timer doesn't lie and is a continuous challenge. Taco Bell Corp. is also in the process of certifying the new System 60 drive-thru timer, and we will hopefully see that in some of our new builds later this year.
TECHNOLOGY TIPS:
My #1 technology tip for our restaurants is: Don't try to fix it on your own; contact SOS-TACO and/or report your issue in IssueTrak. SOS-TACO can sometimes review the logs prior while you are on the phone, which can tell us if we are dealing with a hardware or software issue. It is important to contact SOS-TACO first as the issue may be able to resolve the issue over the phone, especially if it's software related. If you didn't get a resolution from SOS-TACO then let us know through IssueTrak, so we can escalate the issue to your POS Tech. Also, we do not charge labor to the stores for our POS Tech group, so stores should never worry about reporting technology issues.
TACO BELL THROUGH THE YEARS:
One of my favorite things that I've witnessed throughout my career has been watching Taco Bell grow into a pop icon. Back in the 90's uniforms were abysmal, but at least they weren't the brown paper hats of the 80's. If you know, you know. In the 90's managers all had to wear a button up shirt with a tie, and that just isn't my everyday style. Now our uniforms are comfortable and cool. We even have customers purchasing Taco Bell apparel and other branded merch. We're sponsoring MTV's Video Music Awards and partnering with cultural icons like Lil' Nas X. Maybe I'm biased, but in my opinion, Taco Bell has become the coolest place to work!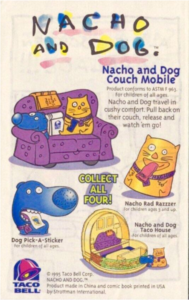 The menu has changed a lot over the years. Who remembers the mythical Bell Beefer, Nacho and Dog kids' meals, the Chilito/Chili Cheese Burrito, and the Border Lite menu? Throughout my Taco Bell career, I have seen many menu items come and go, but my all-time favorite was the Monterey Jack Chicken Soft Taco.
Another thing that has changed is how we communicate with our customers. I love that our customers are Taco Bell fanatics! They are loyal and have an emotional connection to our brand. They tweet, post, comment, like, and hashtag to support us when we do well, but they aren't bashful when we make a mistake. Our fans are very vocal on social media, and we have heard their pleas to bring back the Mexican Pizza, Nacho Fries, etc. Social Media has created a new way for us to communicate with our customers and for Taco Bell fans around the world to connect with each other.
ADVICE:
My advice to anyone looking to advance their career with Tacala is to master the art of Great Operations with Integrity. Doing the right things for the right reasons will open doors you never dreamed possible. Take care of your teammates and your customers, and Tacala will help take care of you in return. And of course, find something you love and call it work.