As we celebrate Earth Day today, Friday, April 22nd let's take a look at our sustainability efforts in our restaurants and how you can help us help our planet and continue to go green!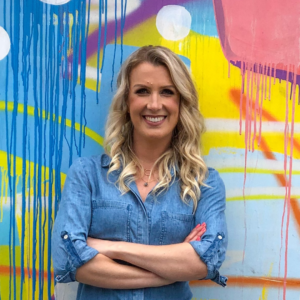 Missy Schaaphok is the Director of Global Nutrition and Sustainability for Taco Bell's parent company, YUM!, and she is giving us the inside scoop on Taco Bell's sustainability efforts and goals for the future.  "With thousands of restaurants, Taco Bell is committed to leaving a lighter footprint on our planet, and we want to ensure that nobody has to choose between craveability and responsible dining. We have a standing commitment to ensure all of our consumer-facing packaging is recyclable, compostable or reusable by 2025, across the globe. To date, our paper to-go bags are made from 100% recyclable and sustainably sourced materials. As of November 2018, all of the cold beverage cups and lids in our U.S. restaurants have transitioned to polypropylene. We completely removed polystyrene, as well as a significant amount of resin, without compromising durability, cost or efficiency. We're in the process of adding recycling and/or compositing bins to all restaurants, where infrastructure permits. We've been testing a recyclable and compostable packaging suite in San Francisco, which includes a narrower Quesadilla bag that no longer uses a plastic window, and we aim to expand that test to other markets in 2022. A portion of Taco Bell restaurants currently repurpose used cooking oil into renewable diesel or renewable polymers, and we're looking to expand those efforts. Taco Bell will play an important role in Yum! Brands' pledge to reduce greenhouse gas emissions by 46% by 2030 and reach net-zero by 2050 across restaurants and supply chains."
In 2017 Yum! made its debut in the Dow Jones Sustainability Index (DJSI) for North America for their ongoing commitment to sustainability. The DJSI evaluates the environmental, social, and economic performance of publicly-traded companies according to yum.com. We are proud of the role Taco Bell has played in helping Yum! earn and maintain this recognition for five consecutive years. Yum! has also joined the NextGen Cup Consortium, convened by Closed Loop Partners, to support the development and commercialization of recyclable hot cups. To read more about Yum's recipe for good and sustainability efforts check out their 2020 Global Citizenship and Sustainability Report.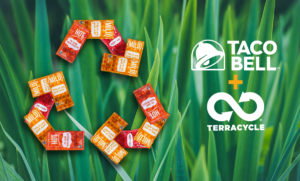 In 2021 Taco Bell partnered with TerraCycle to recycle our sauce packets and turn them into something good for the environment and our communities. Partnering with TerraCycle is one of Taco Bell's biggest sustainability initiatives, and together we have removed over 8.2 billion sauce packets of waste. To recycle your sauce packets, visit tacobell.com/terracycle, print a free shipping label, and mail your sauce packets to TerraCycle. It's really that easy!
Click Here to learn even more about Taco Bell's partnership with TerraCycle.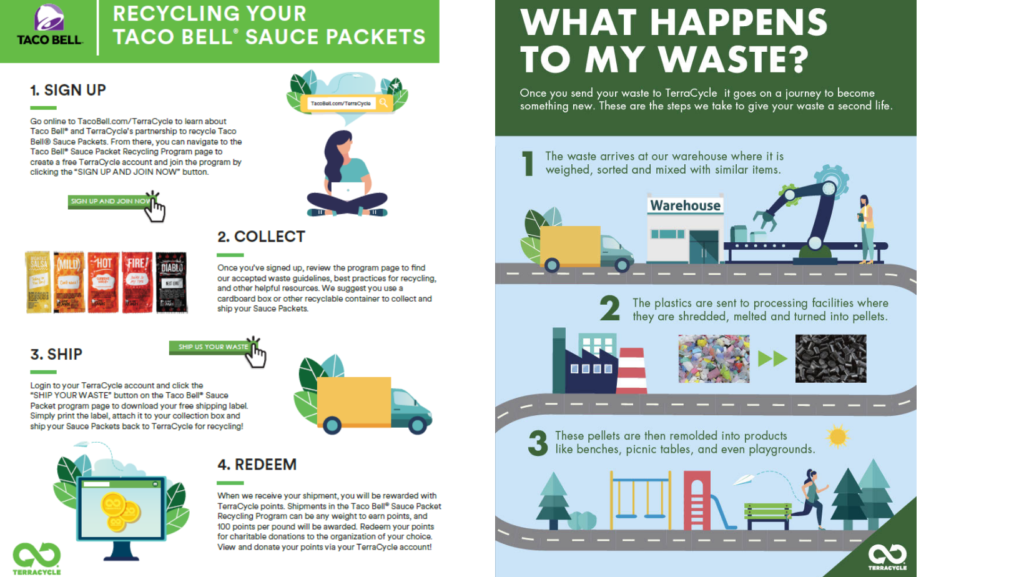 Tacala's Professional Engineer, Mike Gray said, "Our new buildings are more energy efficient with the use of LED lighting, spray foam insulation, and the current HVAC systems." Tacala is always exploring additional opportunities to reduce the carbon footprint of our buildings.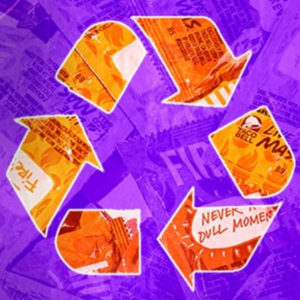 Together Taco Bell and its franchisees, like Tacala, serve over 42 million customers every week in over 7,000 restaurants across the United States! That's a lot of people, which means we have a large footprint, but with these major steps in sustainability, Taco Bell and Tacala hope to build a better future for our people, our food, and our planet!