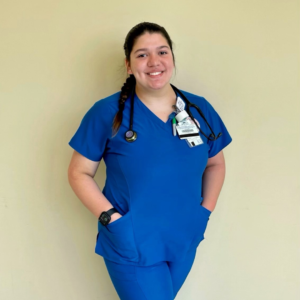 Maggie Ramirez is a Licensed Practical Nurse, a Taco Bell Team Member Trainer, and a 4-time Team Tacala Scholarship winner.
Maggie joined our Tacala family in 2018 as a Service Champion in Hanceville, Alabama when she was only 16 years old. As a high school sophomore, she enrolled in the Fast Track Academy Program at Wallace State Community College taking college courses while simultaneously completing high school and working for Tacala full time. She graduated from Hanceville High School in 2021 with a 4.4 GPA, and 1 week later she also graduated from Wallace State Community College with a 4.0 GPA and an Associate's Degree in Science.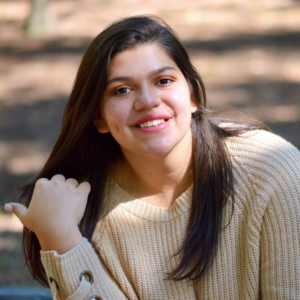 She continued her education studying nursing at the University of Alabama at Birmingham, and fast forward 2 years and Maggie has now passed her nursing boards, earning her Licensed Practical Nurse certification, and is on track to become a Registered Nurse in August of this year! But she's not stopping there! She is determined to achieve her long-term goal of becoming a Pediatric Nurse Practitioner.
Maggie said, "Working at Taco Bell taught me valuable lessons and provided great educational opportunities. The Team Tacala Scholarships allowed me to concentrate on my academics instead of worrying about college tuition. Receiving these scholarships not only benefited me financially but also encouraged me to continue pushing forward and created opportunities for me to help others in need."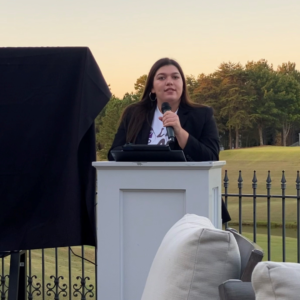 With the help of the Team Tacala Scholarships and working for Tacala, Maggie has been able to complete her college courses debt free, and we are incredibly proud of her hard work and determination. To pay it forward and give thanks, Maggie joined us at the 2022 Team Tacala Scholarships Golf Experience, our annual golf tournament that raises money to fund the Team Tacala Scholarships, where she spoke to all of our sponsors and donors expressing her gratitude, sharing her educational story, and showing them the impact their contributions have had on her future.
Tacala has committed to encouraging our teen Team Members to pursue post-secondary education to prepare for the future and help them achieve their dreams by minimizing the financial burden of college and vocational schools through the Team Tacala Scholarship! Since 2014 Team Tacala Charities has awarded over $1.5M in scholarships to our teen Team Members. Thank you to all of our Team Tacala Charities sponsors, donors, and the Tacala Senior Leadership Team for helping fund life-changing scholarships for our teen team members. To donate to the Team Tacala Scholarship fund and impact more students, like Maggie, visit http://www.birdease.com/tacalascholarships2023/donate or email us at TacalaScholarships@tacala.com to find out more ways to help.