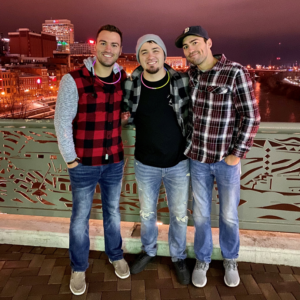 The Berkley Brothers, Nick, Jerry, and Jake, are making things happen in our Tennessee Market, all thanks to a little brotherly love and friendly competition.
Nick joined the Tacala family at age 16 as a Food Champion, and now 14 years later, he has worked his way up to be an Area Coach leading our teams in Greeneville, Tennessee and surrounding areas.
Nick's twin, Jerry joined Tacala in 2016, and he is currently a Restaurant Leader in Jonesborough, Tennessee.
And their older brother, Jake joined Tacala as a Tennessee Restaurant Leader almost 3 years ago and has recently been promoted to a POS Technician.
All three brothers describe themselves as super competitive, but they do a great job keeping the competition friendly to push each other to be their best.
Jake says, "Being the BEST is always at the top of the list for us, Berkley boys! We love the competition, from playing backyard football, video games, 40-yard dash, a round of golf and of course, the restaurant traffic report! We love getting to humbly brag at our family dinners about winning "The Mark Award", earning a North Star Trip, or being named Taco Bell's Top 30 Under 30, but we keep the competitiveness light hearted and support each other in everything that we do!"
"We all want to be the top in the company and be better than our brothers, but that doesn't stop us from sharing tips and ideas to help each other improve. Having the brotherly competition makes this job even more fun, but we always want each other to be at their best," says Nick. "When one of us is ahead, we love the bragging rights, but we also want to help each other to do even better! We are quick to give each other advice and share things that has worked well in each of our restaurants."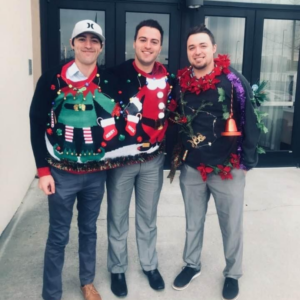 Working with family also has its challenges, so the Berkley Family has a rule to keep personal and professional life separate. They value family time, and are intentional about keeping work at work to maintain their brotherly love.
"Working with my brothers is one of my biggest tools for success! When I was a Restaurant Leader, Nick and Jerry were incredibly helpful and shared strategies to help me maintain positive metrics. Even though they were my younger brothers, I looked up to them and valued all of the advice and wisdom they had to share about leading a restaurant, since they had more experience than I did," says Jake. "Now we are all in different roles with different teams and goals, and we all have our own leadership styles. We all have our own strengths to share. Nick gives the best advice about training our teams, and Jerry was my go to for OSATS feedback. What works for one of us, might not always work for another, but we always find ways to encourage each other!"
Nick says, "I've been in the Taco Bell world longer than my brothers have, so I try to use my knowledge and experience to help them through some of the challenges, and they are great at reminding me what my teams might be struggling with. It is comforting knowing we all have each other's best interests at heart, but we also are willing to snap each other back to reality when needed. Together we all balance each other really well."
The Berkley brothers share their goals and challenges with each other to hold one another accountable and make each of their goals a reality. Nick says, "My brothers helped me believe I could be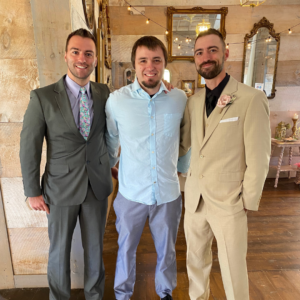 an Area Coach and encouraged me to take that big leadership leap. Working with my brothers has been extremely impactful for my career, and I couldn't be more thankful for both of them!"
Jake credits his success to his consistency, hard work, willingness to learn, and having his brothers with him every step of the way. Jake's best advice is to, "Be consistently good at whatever you do! Being consistently good, will lead to being consistently great!"
Nick said, "I've been dedicated to Taco Bell and Tacala for so many years, because I love what the company stands for. Tacala has a family-like culture, and it's a great fit for me and my brothers!"
Together these brothers have already accomplished so much, but their success is far from over! Nick's goals are to excel in his new role as an Area Coach and to become a People Capability Coach one day. Jerry is working towards becoming a Market Training Leader and an Area Coach. Jake is currently working on his goal to master his new role as a POS Technician, and his plans for the future include growing with Tacala and continuing to enjoy his journey!